Mr. R.V. Gardner, MLA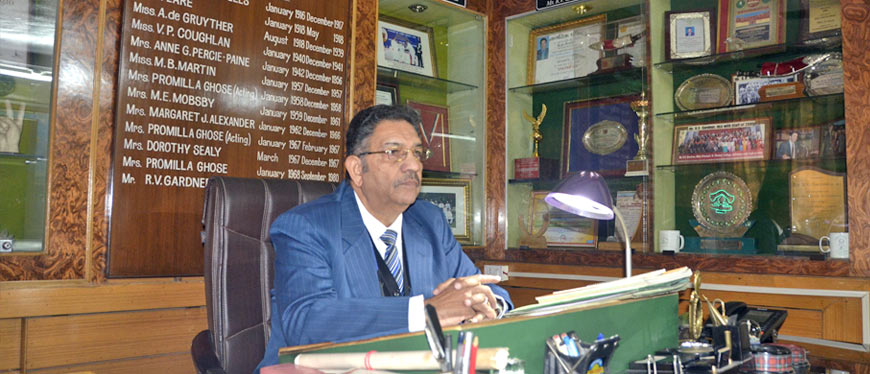 Welcome to the website of St. Thomas College which has a rich tradition of excellence. Throughout its nine decades of service to the community, STC has consistently met and exceeded the educational needs of a diverse student populace.

St. Thomas College has consistently been producing excellent ISC (class XII) and ICSE (class X) results, year after year.
As its Principal, I can assure you that it will continue to strive for even greater student achievement not only in academics but also in all other areas of skill and personality development. The College offers to its students the best of modern facilities and equipment. These aids are inextricably intwined with the proven values of a traditional and modern education, good manners, high academic expectations, competitive team sports, and leadership traits. An effective prefectorial system is in place in the institution to encourage participation by each student in the field(s) of his/her interest, sports, drama, debate, quiz, elocution, and music & dance, to name some of the activities.
St. Thomas College is truly blessed with a team of dedicated and competent teachers. Each member of the faculty works incredibly hard to adopt the best practices in school education so that every student acquires the confidence considered necessary to face the challenges that lie ahead in his/her post-schooling years.
I receive a large number of letters and e-mails from our alumni who occupy positions of great responsibility in various fields including defence, administration, research, medicine, and business management. These alumni unfailingly attribute their success to the learning and training they had received at STC during their schooling years.
Please allow me to get a bit personal now. I am the 13th and the first gent Principal of this great institution. In 2005, I completed 25 years as its Principal. During these 25 years, I have initiated many reforms so that the College is able to maintain its leadership position in school education. I assure you that in todays fast-changing world scenario, St. Thomas College is fully geared to come up to the expectations of all its stakeholders - students, parents, teachers, staff, as well as the local community as it moves with poise and pride towards its centenary year 2016.
May God bless you.